Pulse Instruments offers instrument mainframes in two series--CompactPCI and 4000 Series.
Our CompactPCI series mainframes are industry-standard, open-architecture chassis with enhancements to support Pulse Instruments' clock driver and DC bias cards. The enhancements are transparent to the CompactPCI specification, and 3rd-party cards CompactPCI/PXI cards can be used in our mainframes without hardware or software modification*.
Product Selection Guide
| Model | Controller Slot | Total Slots | HD/OS/IO | Height (U/in.) |
| --- | --- | --- | --- | --- |
| 11008 | Top | 8 | Yes | 5U/8.75" |
| 11008S | Top | 8 | No | 5U/8.75" |
All Pulse Instruments CompactPCI mainframes support 6U-width CompactPCI/PXI cards and are rack-mountable in standard 19" racks.
* Pulse Instruments enhancements increase available current on the -12 V supply and significantly reduce electrical noise within the system. Power-sequencing hardware also ensures proper power-up sequencing for bridged systems. Installed PXI cards will operate in CompactPCI mode only.
Configuration Information
Every CompactPCI system must have a system controller, typically a single-board CPU installed in a standard mainframe (PI-11008x or PI-2005). Systems can be expanded by adding one or more CompactPCI slave mainframes (PI-11008S), bridged to the system controller via a PI-31002 CompactPCI bridge card set.
Systems can also be expanded by adding 4000 Series Mainframes, via the PI-31001 PI-Bus Interface Card or via USB.
Standard mainframes support an optional rear I/O card to support the optional DVD burner. Windows XP SP 3 will be pre-installed on the hard drive, configured for the CPU card ordered with the mainframe.
Slave mainframes do not include I/O, hard drive or operating system, and must be controlled by a standard mainframe via a bridge card set.
Each CPU card occupies one instrument slot and has an on-board 2.5" HDD with operating system and Pulse Instruments application software. Each bridge card set occupies two slots, one in the standard mainframe and one in the slave mainframe. In some configurations the bridge card in the master mainframe may reside on the CPU card in a PMC site, preserving one CompactPCI instrument slot.
Remaining instrument slots are available for any 3U or 6U CompactPCI or PXI card from Pulse Instruments or a 3rd-party vendor.
Here are examples of two CompactPCI configurations:
Sample Configuration 1, CMOS or IR FPA Stimulus Instrument: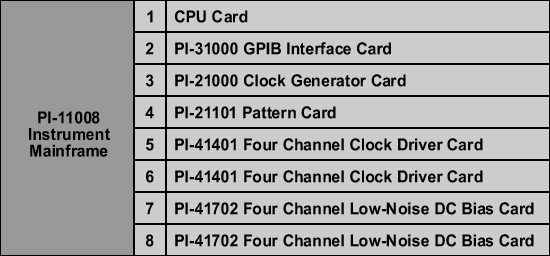 Sample Configuration 2, CMOS/FPA Test System:
Imaging Processing CPU card
8 channels of programmable clock drivers
12 channels of low-noise DC bias
Support for up to 8 channels of analog data acquisition (requires PI-3105, not shown)
Two available slots for future expansion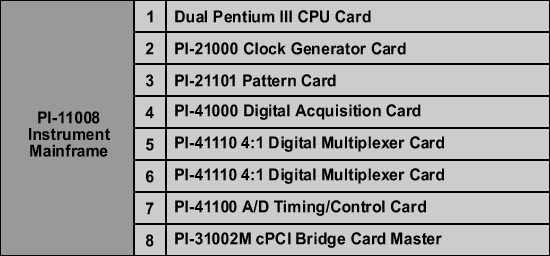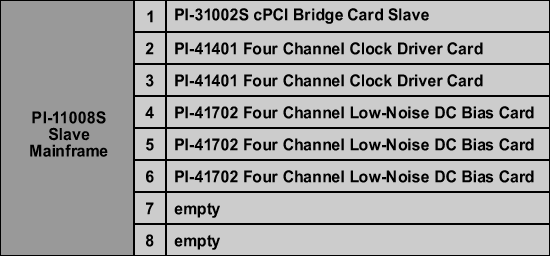 ---
The 4000 Series mainframes were developed by Pulse Instruments to accommodate the voltage requirements for testing of CCDs and certain IR FPAs. Instrument cards for our 4000 series will operate from -20 V to +36 V, depending on the card model.
The 4000 Series consists of the following products:
PI-31001 PI-Bus Card or 4001 Control Mainframe**
4002 Instrument Mainframe
4003 DC Power Mainframe
** The PI-31001 PI-Bus Interface Card for CompactPCI has replaced the 4001 for all new applications.
Configuration Information
The PI-31001 PI-Bus Interface Card or 4001 provides the programming control for instrument cards installed in up to seven 4002 mainframes.
The 4002 Instrument Mainframes house our Clock Driver and Low-Noise DC Bias Supply cards. Up to 8 clock driver cards and DC bias cards can be mixed in the instrument mainframe in any desired combination or separated in different mainframes for additional noise immunity. All control signals from the PI-31001 or 4001 are optically isolated to prevent noise contamination of the analog signals.
The PI-4003 DC Power Mainframe supplies the linear low noise power to the clock drivers and DC biases located in the PI-4002 Instrument Mainframes. The PI-4003 DC Power Mainframe and PI-4002 Instrument Mainframes are floating with respect to the PI-4001 Control Mainframe or CompactPCI mainframe.
Sample Configuration 3, CCD Test System:
Image Processing CPU card
10 channels of programmable clock drivers
12 channels of low-noise DC bias
Support for up to 4 channels of analog data acquisition (requires PI-3105, not shown)